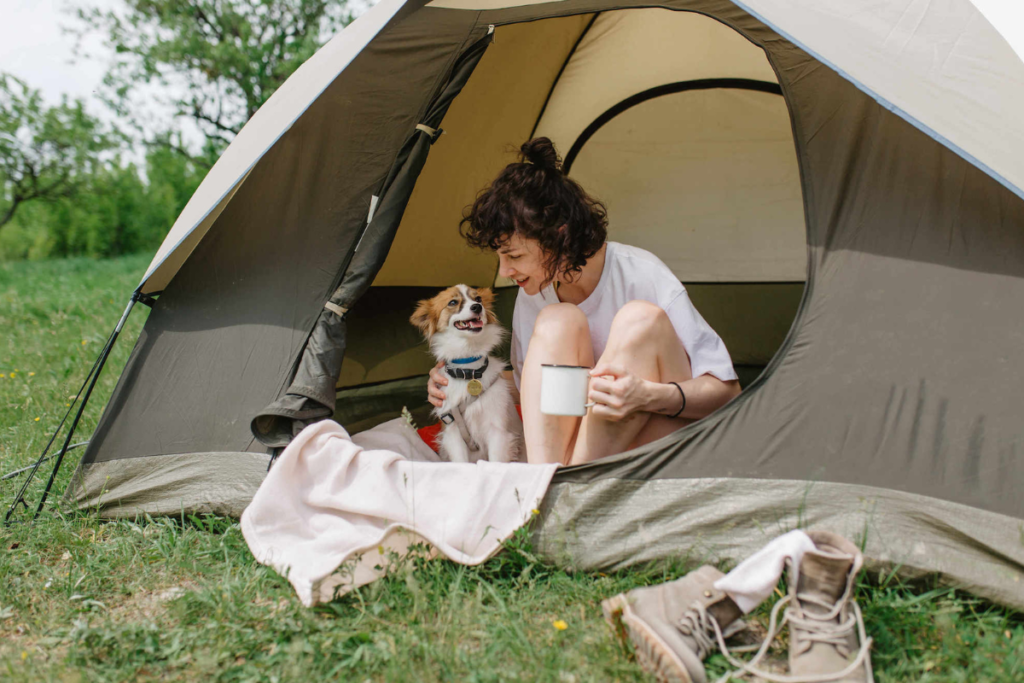 Camping is great way to relax while enjoying the outdoors and being able to share the experience with your dog can make it even more enjoyable.
It is important to realise that taking your dog away camping with you is something that requires some thought and preparation. Here are a few tips to help you prepare for a camping trip with your dog and to keep them safe while camping.
Medications and Vaccinations
Make sure your dog is up to date with their vaccinations, intestinal worming and heartworm treatment. Treat your dog for fleas and ensure that if you are going to be camping in an area with ticks that they have tick protection on board. Make sure you take any of these treatments with you that may be needed. Also make sure you take ample supply of any other medications that your dog takes, whether they are daily medications or periodically, it is much better to have them with you.
First Aid Kit
Just like you take a first aid kitfor yourself, be sure to take one for your dog. It should contain some emergency supplies like bandages, wound cleaner, nail scissors/clippers, tweezers, antiseptic ointment, a towel, sunscreen, fly and insect repellent and a bottle of shampoo just incase they need a bath.
Bedding
Take them a bed, blanket or collapsible kennel. Ensure that they have somewhere comfortable, dry, shady and out of the weather to sleep. If it is cold make sure they have a coat.
Water
Fresh Water is a must have for your dog. Depending on your destination you may need to take water with you. They should not be drinking sea water or water from dams, creeks and rivers. Even if the water appears fresh it could still contain harmful bacteria.
Food
Don't forget their food. Dog biscuits are the easiest option to take away as if stored correctly in an airtight container they should not spoil, get wet or have insects get into them. Don't change their food when you go away as it may cause upset stomachs or for them not to eat.
Poo Bags
Take some poo bags, pooper scooper or shovel with you so that you can clean up after your dog.
ID Tag and Microchip
Make sure your dog is wearing a collar with an id tag clearly listing your phone number, preferably a mobile number that you will have with you. Your dog should really be microchipped and ensure that your details are up to date with the Australasian Animal Registry.
Walkies
Take their lead or harness that you use to walk them with. You should take a long lead that you can use to tie them up with when you need to. Also take a spare collar and lead just in case one breaks.
So why not go and enjoy your camping trip with Man's Best Friend, they will love it and so will you!
Shop for all your dog's camping needs here.
Originally published in My Pet Magazine Summer 2015/16.
To view all issues of My Pet Magazine click here.
The post Camping With Your Dog appeared first on vet-n-pet DIRECT Help Centre.