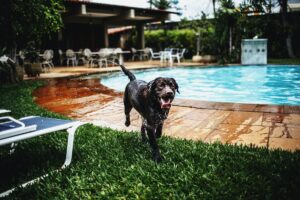 Swimming is a great way to cool down on a hot day, even for your dog! Not only is it a great way for them to cool down but it is also great exercise and not to mention a lot of fun.
The following are some tips to follow for keeping your dog safe while swimming or when around the water.
Tips to keep your dog safe around water and while swimming
Practise first – make sure you practise swimming, in shallow water to ensure your dog can competently swim. Not all dogs can swim so you might need to teach them. Follow our tips on How To Teach Your Dog To Swim in the vet-n-pet DIRECT Blog.
​Make sure they are trained and understand commands, particularly stop and come so they can say safe.
​Always supervise your dog.
Know the water conditions of where you are swimming.
Don't let them go out too far from shore or too far away from you.
Put your dog in a life jacket like an EzyDog Dog Floatation Device to provide extra safety by keeping your dog buoyant.
Apply sunscreen, especially to thin coated and light coloured skin dogs. There are also dog rash shirts available, like the EzyDog Rashie, to protect your dog from the sun.
Try and keep your dog from drinking the water they are swimming in as it might make them sick.
Offer plenty of fresh water to drink. Top tip: Take a collapsible water bowl so you can easily offer them clean water from a tap or water bottle.
Rinse or wash your dog after swimming to remove any salt, minerals or debris.
Know the signs and symptoms of heat stroke just in case your dog falls victim while out for a swim.
Originally published in My Pet Magazine Summer 2014-2015
To view all issues of My Pet Magazine click here.
Here are some products to help you and your dog stay safe and have fun on or in the water. Shop our full range of products at vet-n-pet DIRECT here.
The post Keeping Your Dog Safe Around Water; Water Safety and Swimming Tips appeared first on vet-n-pet DIRECT Help Centre.