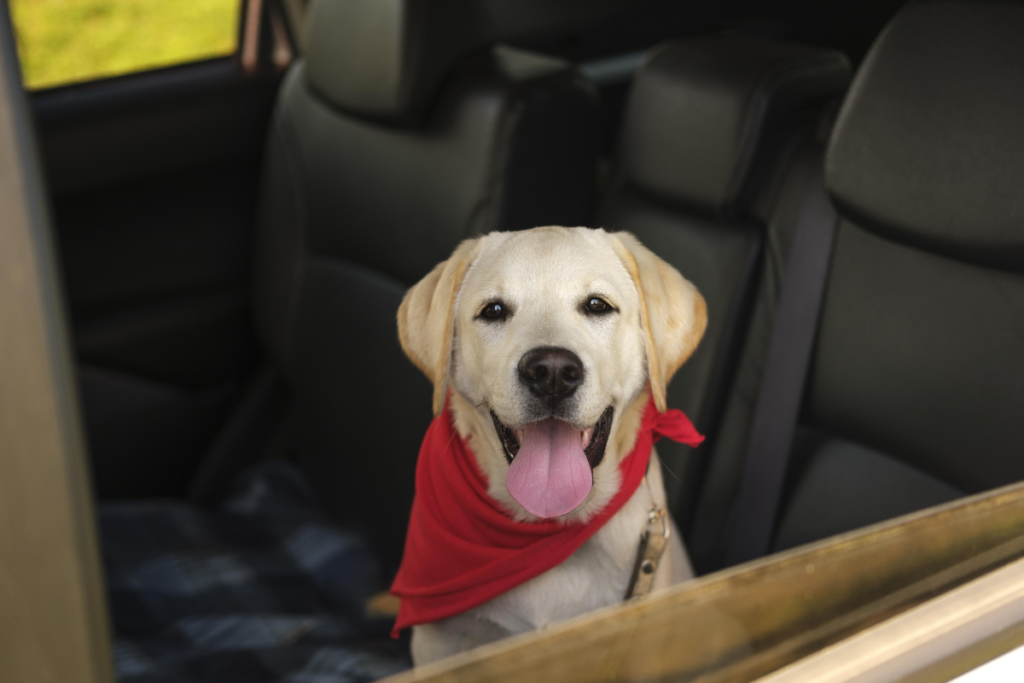 Travelling and holidaying with your dog is great fun, for you and your dog. If you plan on taking your dogs on holidays with you, here are our tips to help you and your pets be safe and prepared.
Safety and Security in your vehicle
The Queensland Government requires loads to be secure. Please check other state regulations if travelling interstate. The road rules in Queensland do not specifically require an animal to be restrained while travelling inside a vehicle. However, it is an offence to drive with an animal in your lap or to drive when you don't have proper control of the vehicle. 
We recommend that animals travelling inside a vehicle should be restrained in some way for the safety and welfare of the animal and the occupants of the vehicle. 
It can also help having dogs tethered inside the car when you stop near a busy highway and need to have that extra security that your pet can't jump out when you open the door before you clip on a lead.
Be aware if an animal is carried in the tray of a ute or in a trailer it is classed as a load and must be safely restrained. 
Car Harnesses and Safety
Currently, there is no national standard on the design or manufacture of car restraints to keep our pets safe. There are some harnesses available in Australia tested to international standards, or independently crash tested/impact rated. These are: Company of Animals Crash Tested Dog Harness, Ezydog Drive car harness, Sleepypod clickit and Kurgo. 
There are seat belt clips/restraints that clip onto your dog's harness and clip into or attach to the seatbelt in the back seat.
Cargo barriers can be useful to prevent dogs jumping over the back seat/boot or into the front seats. 
Crates are fabulous if you can fit one in your car. However, be aware that most crates/cages are not crash tested. MIMsafe Variocage is Australia's only crash tested pet travel cage.
Backseat protectors and 'hammocks' are great to prevent dogs from falling behind the front seat if you have to brake suddenly and also give a bit of extra room for your dog to sleep.
Nonslip matting/carpet can help prevent dogs from slipping in the back of 4WD's. 
Identification 
Make sure your dog has an ID tag attached to their collar with minimum of name and current phone number on it. Ensure microchip info is up to date.
Take an extra collar and harness in case you lose one (you may take it off when you bathe your dog after a visit to the beach and they need to dry).
First Aid Kit
Hopefully you won't have to use it, but better to be prepared. Ensure you include the basics such as:
Gauze and bandages
Tick remover and flea/tick wash
Traumeel tablets or cream or similar (betadine etc.)
Scissors
Tape
Rubber gloves
A blanket or towels
Spare lead 
Your dog's vaccination certificate
Poisons info number  
Electrolytes – especially during the summer months
Ear/eye wash
Travel sickness meds
Shop for all your First Aid Kit needs online here.
Medications
Pack your dog's medications if their due dates for wormers, heartworm or flea/tick meds fall in the time you are away.
Don't forget flea/tick wash, collars and whatever you use for tick prevention, especially if you're going to coastal or prevalent tick areas in the warmer months.
Miscellaneous
Travel mats, crate mats/beds – take your dog's own bedding and extra mats and towels.
A good supply of poo bags!
Food and Water
If you feed a raw diet, it can be hard to travel with frozen food, especially over a long distance, unless you are equipped with portable freezers in a 4WD or caravan. You can always take enough food to get you through the first 2 – 3 days, then arrange to source food at your location if possible. 
Raw food can stay frozen in an esky until you reach your destination and transfer it to a freezer.
If you don't have a good fridge/freezer and you're camping for example, then consider some freeze dried or air-dried foods such as K9 Naturals and ZIWI Peak. Make sure your dog is used to these foods first though. Spend a couple of weeks giving them small amounts so you know they tolerate it well.
If you feed dry food, then this is easy to transport, so make sure you have enough supply for the time you're away, plus a little extra.
Even feeding a raw diet, make sure you take some emergency dry food as a backup – and one that your dog likes and will eat. 
Don't forget treats and long-lasting chews in your food packs and your dog's own food bowl/food toys.
Travel water bowls – non spill ones are great such as the K9 Cruiser. Collapsible water bowls are also handy for travel and walking/hiking.
Car Sickness and the Anxious Traveller
Unfortunately, some dogs suffer from car sickness and/or get a bit anxious in the car. 
There are a number of anxiety products on the market you can try like Natural Animal Solutions TravelEze, HomeoPet Anxiety Relief or Adaptil, that may help with travel anxiety.
You can also try using ginger – often the ginger snap biscuits can help, or ginger in tablet form. Please consult with your vet before using any of these products. Your vet will also be able to advise you if travel sickness medication is suitable for your dog.
Leading up to a longer car trip, try doing several shorter duration trips, building up gradually. Your dog may be more comfortable travelling in a different section of the car, windows down or open, non-slip matting/bedding etc – try some options to see what works best for you and your pet.
Taking Breaks 
When travelling long distances, aim to stop about every 2 hours to let the dogs out for a toilet break, a drink and a sniff around to stretch their legs.
Try to stop in a quiet area not too close to the main highway, with shade and green grass. It can help to plan your trip and research the towns and rest stops along your journey to see which ones to stop at that best suit you and your dog.
Arriving at your Destination 
Always obey leash laws – these are in place for you and your dog's safety
Never, ever leave your pet in the car alone.
Most of all – safe travels and have fun!
Pet Travel Checklist
Download the Pet Travel Checklist below to make sure you are ready for your adventure.
Shop for all your dogs car and travel accessories online at vetnpet DIRECT here.
The post Travelling With Dogs appeared first on vet-n-pet DIRECT Help Centre.